Happy at Work: Ten Steps to Ultimate Job Satisfaction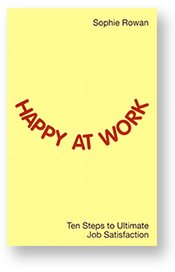 "This remarkably readable and highly practical book will energise everyone who reads it and transform the way they work. Highly recommended."
Dr. Martyn Newman, Corporate Psychologist and Author of 'Emotional Capitalists – The New Leaders'
"Happy at Work offers pearls of wisdom from a leading occupational psychologist. It's for everyone who wants to find out how to take intelligent steps to be happier at work."
Siobhan Hamilton-Phillips, CEO and Consultant Psychologist
---
Are you happy at work? Really?
Being happy at work is something we all struggle with at some point during our career. It is something that we can take control of.
Focussing on three key themes – you, your working relationships and your work environment – Happy at Work helps you make the most of what you've got, no matter what your job situation is.
In 10 simple steps, you'll find out how to truly enjoy your working day and get the most from your job, without changing career.
A concise and user-friendly format, with interesting and diverse case studies, this book is based on recent psychological research and practical experience. It's full of tools, tips and techniques to help you get more enjoyment from your work.
To get 20% off your copy of 'Happy at Work' and free p&p, log onto www.pearson-books.com/happyatwork
Published by Prentice Hall Life, 1 January 2008, £9.99 (€15.95)
It has been a staple on the Amazon bestseller listings and has since been translated into Spanish, Arabic and Romanian.