Greater Job Satisfaction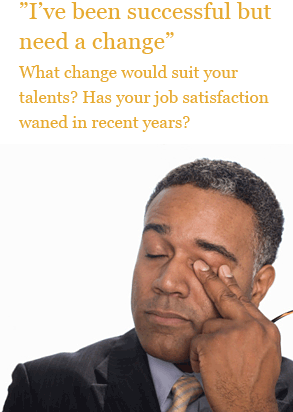 Success and satisfaction don't always go hand-in-hand.  Sometimes you are so busy doing your job that you forget to manage your career.  We have worked with senior managers, executives, business owners and sector experts who have reached a cross-roads in their career.  Through a combination of psychometric profiling and coaching, we will pinpoint what your key strengths and motivations are to help you to refocus your career direction and regain your satisfaction.
Drawing on our expertise in careers and targeting roles at a senior level, we will enable you to develop a plan for your career and support you in putting that plan into action.  Our service includes a follow-up service over an 12 month period.  Our approach will help you whether you are suited to a major change in career direction or you simply need to think about your current situation in a different way.
For executives who know what they want in their career but are unsure of how to get there, we provide one-on-one coaching on career strategy.  We also provide a challenging interview coaching service to help you prepare for interviews in the public and private sector.
The Executive Career Review Service cost €995.
A Coaching Programme ranges in cost from €1,200 for 4 sessions to €1,700 for 6 sessions. Profiling can be also be included for an extra cost.